I've compiled a list of my top 5 favorite (most beautiful!) homes on Instagram. You will notice a trend in these homes. They're warm overall; have earthy, natural, and/or woven elements (wooden pieces, baskets, intricate rugs); have plants, plants, and more plants; and stick to neutral color schemes (black, white, brown) with occasional pops of color.
In no particular order, these are my favorite homes on Instagram:
@emily_katz
: I'm a fairly new follower of Emily Katz. I have all of the heart eyes for her house. I especially like the woven rugs, guitars, shelving, and plants in Emily's home.
@elisejoy
: I'm a longtime follower of Elise Cripe. I've followed Elise's various moves over the years. She shares her home with her husband Paul and their young daughters Ellerie and Piper. Above are glimpses into their current home. I love
the bookshelf
,
the large pictures in the dining area
,
the handmade quilt in their bedroom
, and
the scripted art
.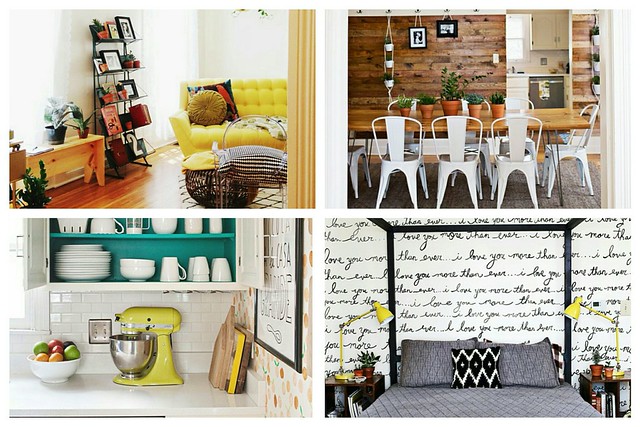 @elsielarson
: Elsie Larson is the brilliant founder of the blog
A Beautiful Mess
. Elsie recently moved to Nashville with her husband Jeremy and she's working on decorating her current home. (It looks amazing so far). Above are the pictures of her last home. I love the
handwriting statement wall in her bedroom
,
the hand stamped clementine wall in her kitchen
,
her dining room's wood wall
,
her yellow couch, and the vintage bookshelf in her living room
.
@tracyshutterbean
: I started following Tracy Benjamin some time ago.
I've mentioned that Tracy has significantly improved my cooking
- I make at least one of Tracy's recipes every week. Anyway, Tracy's home is beautiful. She shares it with her husband Casey and her son Cooper. I LOVE
her recently painted kitchen
(the black cabinets!), her office/workspace (I can't stress how much I like this space), and the navy blue ottoman. I follow her on Snapchat and enjoy the everyday "snaps" of her home life.
@smalladventure
: I came across the artist Keiko Brodeur's work at the
Renegade Fair in LA
. I have her succulent
print
and
cards
. Her warm and inviting home was recently featured
on Design Sponge
. I especially like her eclectic pieces, her shelving, and plants (I really can't get enough of all the plants!).
And there you have it- my top 5 favorite homes on Instagram. Which homes are your favorite on Instagram?
P.S. I am also a fan of
@anne_parker
's home:
and
@dawnellesarlo's
home:
·
Related:
My Top 10 Favorite Memory Keepers / Pocket Scrapbookers on Instagram